---
>
---
A freestanding eco-typo sculpture using wax and electroluminescent wire.
---
02.2
-
Made using electroluminescent wire (EW), flyscreen, ties and soy wax designed to a template. The wax was melted in an oven then edges smoothed off.
The aim was to create a freestanding typo sculpture using wax as main building material. The light sits under the wax surface and remains inert until switched on. It has a ghost like quality floating just under the skin.
02.1
-
Using the same process as before. This time using a version of the Starlifter font that is design specifically to be threadable as seen below.
---
GRN
-
Eco Sculpture 02.1
>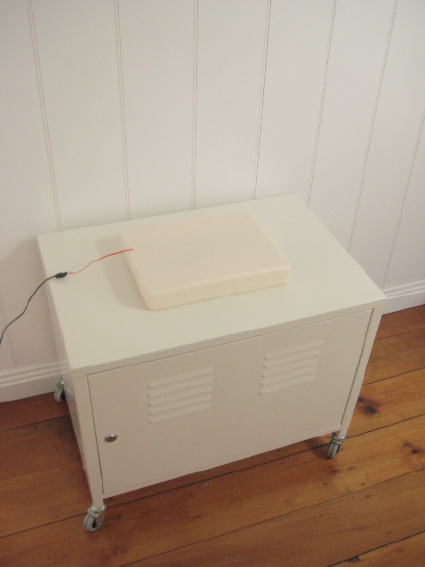 ---
Noel Robinson Architects
-
Eco Sculpture 01.0
>

The ideas above were based on this prototype.
I had originally intended to 'set' this EW logo in a soy wax block. Unfortunately that proved a bit beyond our means at that time so I moved onto smaller versions which you see above as v02's.
The idea was to create a sign piece that would symbolically act as canary in the coal mine for the onset of global warming.
The EW was tied to a flyscreen base (very aussie), then the wax would replace plastic acting as building material and barometer - if the atmosphere is too warm; it would potentially melt and signify a warning event.
Soy wax is alsa a natural uncoloured material. The EW is very low power and thus the whole object becomes an eco statement in minature.
It was to be a freestanding wax-sign-sculpture that would sit in reception of the architectual practice as a showcase for the architects eco research: the Earc part of the identity and business was dedicated to this.
---
Noel Robinson Architects
-
Final usage
>
Ultimately this was the final design Noel went with which is classic neon, but he was very intrigued and receptive to our more conceptual eco alternatives.
www.nracolab.com
(Noel Robinson Architects)